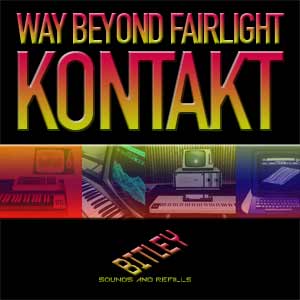 We added drum machine based kits, amazing Fairlight III and Pet Shop Boys inspired strings, Depeche Mode, Scritti Politti, Art Of Noise and Chaka Khan inspired analog and digital synthesizer patches.
We also included our cinematic Synclavier library and the sweet Lost In The Fairlight Maze banks — where each one proudly represents a different, exotic and Fairlight-spiced serving.
Tailor made for the full & updated version of Kontakt 5 and beyond
Way Beyond Fairlight Kontakt is loaded with a lifetime of musical resources, covering everything you need to create high-quality & decidedly electronic tracks without ever getting bored.
Most importantly: Your results will always stand out with these spices in the mix. Put your headphones on and check the demo tracks.
The close to 3 Gigabyte & 2,400 patch Way Beyond Fairlight Kontakt library is the result of several years of hardcore sampling, editing and programming. Included is also some of our best synth and drum machine inspired work. And the famous sounds we recorded from the classic Fairlight IIx system, with added spices from other exciting hardware gear including Prophet VS, Synclavier, JX8P, Oberheim Matrix 12, Moog Prodigy and much more.
Remembering how the Fairlight CMI was used back in the 80s, it wasn't the final word on synthesis and sampling but rather the really delicate spice that stood out in the mix. Often surrounded by other fine keyboards, high end effects, sampling tools, amazing drum machines – yes, this was the sounds we always wanted ourselves as well.
Sound categories includes dirty effects, stunning harps, bouncy mallets, oozing voices, complex analog synths, samply and funky basses, house pianos, samply brass, fat drums, superb flutes, plucks and twangs from guitars, highly playable keys, leads and every pad you ever dreamed of.
Perhaps you will also like to know that these sounds heats your soul without burning out your computer's CPU.
The library works for any electronic music from hip hop to dubstep, house, techno, jazz, rock, pop — delivering just great sounds endlessly. And instantly.
All the work from our previous releases Fairlight Kontakt R2 & R3 and Dreampads is included, with the neat addition of some great improvements, updates and additions. Easier to browse than ever before.
An overview of the included [and separately available] Lost In The Fairlight Maze banks.
The Flutarian Hills. A journey through wind instruments taking you all the way to Mike Oldfield's legendary 'Killing Fields'.
The Mallet And Chime Hallway. The early Fairlight and Synclavier mallet sounds are wonderful to play due to their rich character. We built the patches on our own recordings of these high end, legacy sampling instruments.
Inside Synth City. You know what people say about their synthesizers? "Oh that one. I only use it for one sound!". Just imagine if someone crazy enough to collect just about all samplers and synthesizers worked days and nights just to pick, edit, and create "killer" sounds like that.
Outside Synth City. Some of the best sounds ever heard. The pad sound "Think JD-990 And Beyond" alone will probably keep you playing. A good start.
The Gates Of Sararr. The history of Sararr is cool. Sarah is her real name and she was asked to sing in a synthy and breathy kind of way. The result after sampling was fantastic and a signature Fairlight sound was born. This is a collection of Sararr based sounds and other voice sounds are here too.
Beat Dis Hills. Located in the dusky suburbs, sub basses heats up the the party and Beat Dis hills comes with several complete 88-note drum layouts. Miami Vice toms and 909 BD's, vintage claps and Howard Jones'y hats. It's the sampler you dreamed of.
The Sea Of Bass. Fishing for bass? Other species are Art Of Noise, Scritti Politti and Yello. They all went diving deep into the lows around here. Korg PE-1000 & Arp 2600 sounds are here too.
Birdland Airport. Analog brass and even acoustic recordings of the lower kind of bitrate. Saxophones and trumpets of the less authentic variety. The dawning of the digital sample. Brass falls. Ensembles. Sampling gone vintage. Add aliasing with Kontakt's SP1200 setting for that crunchy 8-bit pitch shifting.
A Maze In Strings. From the early days of sampling. Pet Shop Boys classic "West End Girls" gives ideas on what to expect. Cellos, violas, full orchestras and synth strings from machines like Oberheim Matrix 12 and Roland JX-8P.
Synthwave Factory 101. A small but genuine and fascinating toolkit for synthwave / real 80s fascination deluxe. Divided into five subfolders; Bass, Drums, Fairlight Voices, Hits and Polysynths. The basses are Respectable. The drums are a machinery. The voices are unreal. The hits mean yesterday's business. And the synths — are lovely too.
Hit Keys. If you've ever been fascinated by Yazoo, Depeche Mode, Propaganda, Tina Turner, the musical Chess or the extremely expensive Synclavier system, the fantastic Oberheim Matrix 12, the stunning CMI, the jaw-dropping Yamaha DX1 or so… this little package is mindblowing. Prepare for becoming transformed and time-warped into an era where only high end production studios could create classic albums using the old extreme sampler systems.
The Old Library. Take a peek inside the vintage archives, where beautiful string and choir patches are mixed with strictly lofi ones, marimbas & machines and a rich variety of drum machine sounds. This package leans a lot to the samply kind of sound, raw and reminiscent of 'Beatbox'. A not at all multisampled Yamaha CP80 is quite enjoyable too, recorded over 30 years ago.
Sublime Chimes. Stunning bells and pads as well as a few odd spices. A well blended mixture of Wolfgang Palm's digital wavetable synthesizer – the PPG, D-50, DX7, JX-8P, Synclavier and Fairlight sounds.
HOW THIS IS DESIGNED & THE IMPORTANT INFORMATION

• The Lost In The Fairlight Maze collection of smaller packs is included in Way Beyond Fairlight Kontakt. Each of these banks is like a small library of its own and these can also be purchased separately for $10 each.

• The Lost In The Fairlight Maze content of its totally 13 available different packs contains totally 435 patches. Way Beyond Fairlight Kontakt, on the other hand, contains over 2,400 patches.

• The full version of Native Instruments Kontakt 5 with updates is needed. Again, none of our Kontakt banks is designed for the free Kontakt Player app.