This all-new refill has all patches we programmed originally on all three models of the JX synths — in the 8P series — now neatly converted from SysEx data & installed into the PG-8X plugin, which has brought them up to date considerably!
What we have here is a new +1 GB sound bank with highly fresh and interesting sounds, while also functioning as the easiest way ever to call up the PG-8X plugin.
The refill practically works both stand alone or as a follow up to the big brothers WBF R2 and WBF R2X (with additional content to users of those as a fun detail.) Way Beyond PG-8X has new samples on board — just not the same ones as in previous releases. Why? Well once you'll start playing you will realize that it was a great choice.
Contents About 5,400 files (it grows!) totally including brand new NNXT patches, Combinators and PG-8X Combinators with interesting knob / button assignments. Samples in all categories including drums, analog synth waves, voices and effects & much more. The door is fully open for adding even more as I now seek for user interaction; comments, thoughts, and even signature patches might be welcome!
This sound bank uses the fantastic PG8X AU / VST plugin which is freely available (as donationware) from Martin Lüders website. The plugin sounds very close to the real Roland JX-8P and supports System Exclusive.
All new. All patches and samples in this refill are new and not used in any earlier refill product. We make sure all products deliver something unique.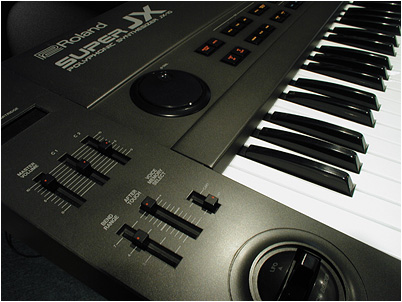 About the JX-8P and the JX-10
As I have told my followers and friends many times, these machines are truly dear to me and have been so since their introduction in 1985 and 1986 respectively. It's the synth model that really stood the test of time for me along with the D-50, the K4 and a few others.
The 8P is a 6-voice polyphonic analog synthesizer with dual oscillators. It was released as a nod back to the great Jupiter 6 and 8 days right in the middle of the DX7 and the early days of MIDI. The JX-10 contains two JX-8P boards and is therefore 12-voice polyphonic and usable in single (whole) mode, dual mode and split mode. It was also released as the rack version MKS-70. The PG-800 programmer is compatible with all three models.
The PG-8X plugin is a fantastic creation and has all the functions of the 8P including the fantastic 3-voice / 4-osc dual mode with detune as on the original.
The Combinator module in Reason has the ability of becoming an even wilder Super JX than the original, as it allows accessing two or even more PG-8X instances at once, including effects, realtime control, etc. By adding the NNXT sampler (which is like a software version of the best sampler imaginable) and interesting sounds the creation being made here was the MKS-770. MKS-770 features up to 48 JX voices and an additional up to 400 voices of polyphony for other sources. This is only limited by the computer but a 10 year old Mac Pro (as was used for creating this) easily allows you to create music with about 20 such MKS-770s and effects, giving you all the advantages of a modern DAW with sample-accurate performance and low latency for even faster performance than a real JX synthesizer.
The Way Beyond PG-8X refill is compatible with Reason 8.2 and up. The PG-8X is compatible with all PC and Mac systems. The amazing Combinator and ReFill features alone makes Reason the platform of choice for me and the sound bank is not planned to be presented in other formats.
Please check out my work with the JX synths on my Soundcloud page and on my YouTube page.