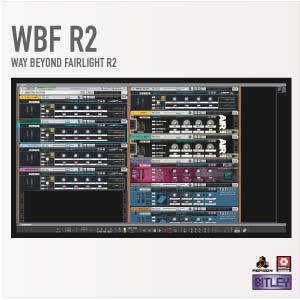 WBF R2 – or Way Beyond Fairlight Release 2 is one of the world's most massive Fairlight CMI based libraries, with over 4000 patches. 5 Gigabytes of data has been packed into a refill which only consumes 2 Gb on disk; this is WBF R2. The pinnacle edition of our Fairlight CMI based sound banks, two more cool facts; this took about 8 years to develop and it's one of the largest Reason sound banks in the world aside from the Factory sound bank itself.
WBF R2 is being sold and delivered exclusively via Reason Studios.
Armed with Propellerhead's Reason (Version 7 and up is needed) you can instantly sample any sound and process it. Resample it. Timestretch it. Reverse it. Loop it. And perform all sorts of creative processing. Put the sound through some filters, effects, vocoders, pitch-shifters – or double it up with itself for psuedo stereo layering. Or maybe you sampled in stereo from the beginning. Or perhaps you imported sounds you'd recorded with a field recorder, or your smartphone.
To create a much richer experience, add the entire sound library from one of the world's most expensive and mythical sampling & synthesizer instruments ever created; the Fairlight CMI. The Fairlight was the world's first keyboard sampler and it represented a true state of the art machine during the 1980s; to buy one the investment started around $20,000 and these machines required lots of technical service. WBF R2 is not just a collection of samples though; it's professional grade programming work, patched and processed for you in all thinkable ways. Instantly and easily tweakable thanks to great Combinator programs. Reason is a greater than great foundation and studio / sequencing tool to work with as it supports thousands of voices of polyphony, all sorts of audio interfaces including the largest ProTools setups – and the ability to co-exist with any DAW in sample accurate synchronization. Together with WBF R2 this practically gives you a complete modern Fairlight CMI system – that runs on your laptop. We work with this platform since the early days, as well as with Kontakt. Our sounds have been perfectly tailored for both, individually.
Supported instrument types includes Combinator, ReDrum, NNXT, Kong, Dr Octorex, Subtractor, Thor and Malström as well as additional rack extension patches for PX7, Radical Piano, Pulsar, Polysix and ReDominator. Effect presets for RV7000, Scream, Tape Echo. Among the sound categories you'll find stuff not just sorted by instrument type (Bass, Keys, Pads, Fairlight voice sounds etc) but also by artist (Enya, Art Of Noise, Yello, Pet Shop Boys etc). All of the sounds are designed with the most spectacular NNXT & Combinator features activated, using between 8 to 24-bit samples taken from a pristine vintage Fairlight IIX system.

To complete the picture and give a refill that represents a very inspiring and complete studio setup we have added other amazing stuff as well, such as Matrix 12, JX-8P, Juno 106, Jupiter 4, Prophet 5, DX7, CZ-5000 and much more. Plenty of drum machines as well: Over 200 ReDrum kits are also included.
Expertly programmed sound alike: Human League (Don't You Want Me) instrumental cover by Ed Bauman; also known as EditEd4TV – one of the most famous Reason enthusiasts from back in the PUF days. Most of these sounds are present in WBF R2 as well as Ed's own MPH series refills. These fantastic sounds are a vital part of the signature patches included in WBF R2.
Signature wealth on top Additional signature patches includes combinators, Thor & NNXT patches, all generously provided by some of the world's top Reason programmers, who kindly agreed to be a part of this massive "Fairlight CMI and much more undertaking".
Reaching K2 – or WBF R2 – took many years of continuing daily work to accomplish, with extensive sampling, editing, programming, organising and graphic design work, and this refill is the follow up to previous releases such as Fairlight II+, XXL and Platinum – of course including all those sounds and adding much more.

Free demo bank? Sure! You'll find it in the free sounds posting on our Facebook page as well as on the Reason refill overview page.

To round things off, listen to the amazing demo from the user Dynakill: Fairlight Dreams.
WBF R2 is being sold and delivered exclusively via Reason Studios.