for reason – WAY BEYOND FAIRLIGHT
way beyond fairlight (release 2) contains over 4,000 excellent patches and is compatible with reason version 4 / ideally 11 and up. the library is built using our own samples of a number of very classic instruments, including the fairlight cmi IIx, roland jx, prophet 5, korg lambda and much more, as well as all of the classic drum machines. everything is pre-programmed for you including redrum patches, kong patches. the combinator patches are vast, with instant options for filter, effects and envelope settings. you are also getting a vast nnxt library and the sample library contains thousands of interesting waveforms excellent for your own programming adventures. all of this is packed into a 2 gigabyte reason refill where everything is easy to find. Please note that the file size before packing was 4,78 Gb so it contains exactly as much the ReFill packer could cope with.
The immensely huge retro wave / 80's love affair known as WBF R2 has been an 8 year development process and it was built from all of the Fairlight refills we released previously; Fairlight CMI Legacy, Fairlight CMI Legacy II, Fairlight XXL, Fairlight Platinum and the previous Way Beyond Fairlight ("R1") including the smaller updates that came in between.
If you ever purchased one of these you can order the update, listed below on this page. From the beginning the refill was always possible to update and we listened to all user feedback in order to create the fantastic WBF R2 experience.
The refill has become a true song writer's toolkit and it is just as awesome as the Reason Factory Sound Bank, just completely different. Be sure WBF R2 is always providing exactly the sounds you are looking for when producing tracks.
The patches are divided into a whole library of categories making it both easy and exciting to surf around for sounds. You will find Kong kits, ReDrum kits, NNXT patches, Combinators, patches for Thor (including signature patches by Ed Bauman and many others), Subtractor etc.
Sound types are drums, basses, leads, pads, synthesizers, mallets and chimes, sound effects, guitars, human voices, strings, pianos, organs, etc.
WBF R2 is the world's largest Fairlight CMI sound bank and even adds to this by including many new and unique samples from a plethora of other samplers, digital and analog synthesizers, electric organs, drum machines – and we also sampled real flutes, additional human voices etc.
Two reasons are the key to the refill being something truly way beyond the mighty old Fairlight CMI;

1. You are getting all the Fairlight CMI sounds as well as many more. The NNXT sampler also provides the possibility of playing back samples with a lower bitrate in an ideal way. Should you need to degrade the sample rate further from that you can add the Scream unit and set its bit crusher to as low a bitrate as you would like. If top quality playback is more for you, NNXT provides that as well.
2. When you are using Reason you have a workstation which includes real actual and very fast sampling and editing; Reason married with WBF R2 is therefore the equivalent of the modern day Fairlight CMI but much more. Let's just compare something like the polyphony; the Fairlight systems provided 8 voices on the series II or 16 voices of polyphony with the Fairlight series III. Reason on a modern PC or Mac provides an unlimited polyphony (based on CPU load), typically already Reason version 1 provided hundreds of voices on the Apple iMac G3 computer so it's safe to say that it provides thousands of voices on any computer built after 2007 (we are still running a MacPro 1,1 among other machines in-house and it doesn't even speed up its fans when we use it for making tracks).

WBF R2 is compatible with all Reason versions from R4 and up, but we recommend using Reason 10 or above. Reason 12 will be the perfect platform for WBF R2 as the new Mimic sampler adds a whole list of new playback options for all of the thousands of samples inside the refill. It's therefore safe to say that you can use it as a sample library alone and create completely new sounds until the end of time with this setup.

Furthermore, if you for some reason (pun) feel that Reason through a sound interface doesn't create a sound image that is as separated as the best analog SSL recording consoles, you can on a Macintosh computer add several different sound interfaces and mix the audio on a real console, using a second computer or some other master machine (tape or digital) to get going with a true high end recording.
price 175$
for kontakt – WAY BEYOND FAIRLIGHT KONTAKT
this is the largest and latest version of our kontakt sound library. all sounds here were completely redesigned and built from the ground up to work perfectly inside the full version of kontakt. please note that kontakt player is only supported in demo mode. the library is sorted into categories such as bass, drums & percussion, mallets & chimes, plukz & guitars etc. the total number of patches is over 2,000 and everything is designed to be very inspiring to use. the name's the same as the reason version but they are actually nearly not sharing a single patch – so they also complement each other
price $175
for kawai K4 & K4r – THE K4 LIBRARY
our kawai k4 library is delivered as system exclusive files sorted into the categories analog classics, new age / pads, xtravaganza, xtravaganza II and the new library from 2019 is also included. each bank contains 64 all new single patches and the original kawai sound bank is also included so you can easily go back to this whenever you want.
price $75
for yamaha moxf / montage etc – XFAIR
xfair is a condensed and utterly neat sound bank for the current yamaha range of workstations, including motif xf, moxf, modx and montage. you need to have 512 megabytes available (expansion for the moxf) in your synth and this is then installed using an usb flash memory. the installation takes about 30 minutes and after that you have about 100 amazing and very playable new fairlight cmi based sounds to be creative with.
price $175
for reason – WAY BEYOND SYNCLAVIER
way beyond synclavier 1 & 2 is combined into one package which is for reason 9 and upwards. these samples were also included in way beyond fairlight for kontakt which is listed above if you are not using reason. these sounds are very crispy and elegant, and you will find orchestral sounds as well as really excellent synth bass sounds and more. a perfect package to combine with way beyond fairlight if you want to delve into what the high end sampling system synclavier would deliver centuries before regular priced hardware gear could have anything to say in this area. still, the synclavier sounds are very fun to create with and in this format there is no taxing on the cpu which means you can create very large arrangements.
price $75
for reason – 8Z FREE & PRO
we did this massive undertaking of sorting all of the world's yamaha dx 7 sounds into a usable fashion. while doing so, we removed thousands of duplicate patches and added our own. if you are lucky to own the px7 rack extension, these are the food parcels you need in order to really discover what can be done with it. we converted all of the 4-op tx81z sounds using advanced python scripting and we also checked yamaha's hand-written tx816 documents in order to build the world's first virtual tx816. this rack synthesizer was a mammoth machine containing up to 8 simultaneous dx7 synthesizers and it's the big secret behind the wide dx sound in tracks like 'oh patti' with scritti politti. begin with 8Z free and add 8Z pro when you get a feeling for how great this is.

8Z Free download link
sound examples
price $35
for reason – ORLANDO JX10
the roland super jx synthesizer is one of the machines we really programmed from the inside and out. when the software world of instruments became a little too clean and digital, we wanted to create a library that went in a totally different direction and this is why the subtitle of this library is 'taped noises'. we simply took our best JX10 sounds, recorded them to tape and sampled from there. everything inside orlando jx10 carries this little sweet woosh from the analog world. well, not everything because we also recorded a selection of ultra clean sounds to go with it in the mix. this is a reason refill working with reason version 4 and up and it contains hundreds of fantastic sounds. a refill that has become very popular among the detroit techno crowd, it can of course be used for any type of music.
price $75
every classic factory sound from the 1978 revision 2 prophet 5 sampled note by note. a vibrant analog life and variation is the natural ingredient and it's also a strong clue to how this instrument has become one of the most rare, if not the most, on the entire vintage synthesizer market. now that sequential has released a new prophet 5 synthesizer you might opt for that solution but this library gives the right sound to us software based musicians. included is also a fairlight cmi based drum refill we made called 'da beat'.
price $75
for casio vz1 / vz8m & vz10m – THE VZ BANK
casio's world class fm flagship, the 8 operator vz-1 was a highly misunderstood machine, which didn't really deliver many preset sounds to show its inner strengths. we built our patches without a determined dx7 type of sound as a goal; we went out on a long discovery decidedly looking for exciting new sounds and this is what we came up with; rather lush and fat pads, great bass sounds, a 909 type kickdrum, swirling and extreme digital effect sounds. in fact the band covenant used a preset from here to build a complete track.
price $35
for reason – WBF R2X EXPANSION KIT
WBF R2X expands WBF R2 with totally 1410 new sound patches including the R2X Additionals ReFill as well as 8 extra Bitley refills and 2 Gb of new samples & adds that touch of extra excitement – just the thing for new inspiration. Included are also 72 VSTi patches for Omnisphere II as well as for Kontakt (carefully selected from the Fairlight Kontakt library).
price $75
for reason & pg8x – WAY BEYOND PG-8X
all of our jx8p & jx10 / mks70 patches converted and combinator assigned & layered with completely new samples organised beautifully for the excellent pg8x plugin. please begin by installing the plugin to see it running well in your reason setup. yet another killer refill from us.
price $115
for reason – UPGRADE TO WBF R2
upgrade your fairlight II+, xxl, platinum or wbf refill to the stunningly perfect wbf r2.
price $110
for kontakt – UPGRADE TO WBF KONTAKT
upgrade any previous fairlight kontakt release to the latest & greatest wbf kontakt.
price $110
BUYING PERFECT SOUNDS = THE TRUE DISCOVERY OF YOUR GEAR
the best way to crown the cake of your software & hardware instrument purchases is to add excellent sounds. we program everything from scratch and our sounds are always extremely inspiring compared to the often quite "rushed out" preset banks your product came with.

the bitley designed sounds are the result of hundreds of hours of relentless die hard programming, sampling…

…and actually graphic design [ combinators in reason ] – the ui combinator design work was also a professional collaboration with the masterful design company kangebo design – teaching design the forsbergs art director university.
[ bitley also designs sounds for numerous companies such as arturia & previously also for rob papen, reason studios / malström & all the recycle 2 presets, clavia / nord modular release 2 / the nord micro modular synthesizer was also a bitley suggestion to clavia and we are always open for new collaborations with hardware & software companies in full discretion – please feel free to email patrick dot fridh @ gmail for direct communication ]
roland jd-xa patch set
including the noodling split / layer / sequence pattern – note: requires a usb stick for transferring the patches to the synth & you can then check them out and choose where to save etc.
price $15
modern day Fairlight CMI solutions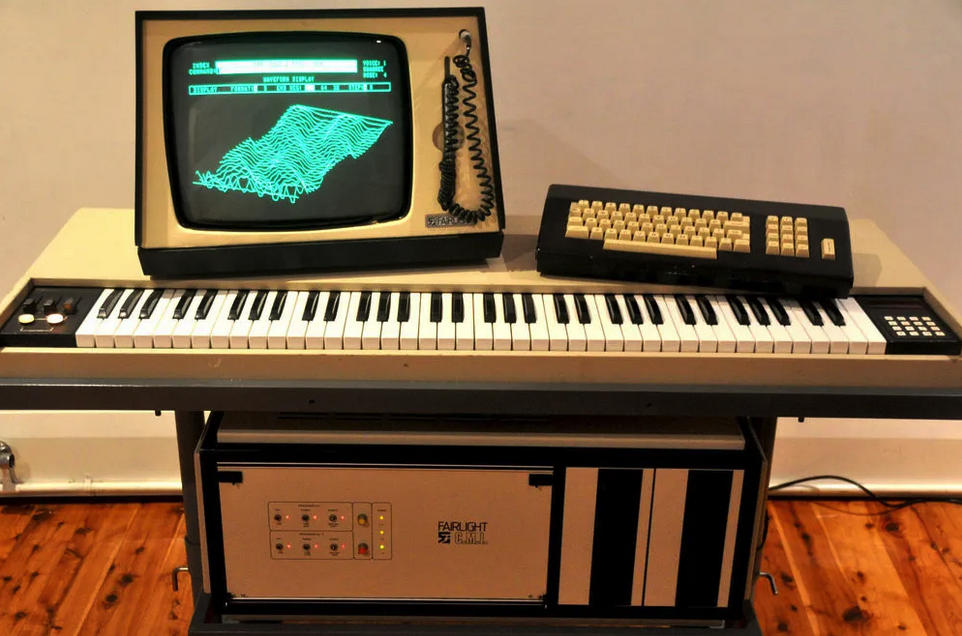 As much as we like bragging about WBF R2 and Way Beyond Kontakt, we are fully aware of the other Fairlight CMI solutions available today. These include;

1. Arturia's CMI V.
This one provides lots of interesting "CMI like" audio editing and tweaking. We made a bunch of presets for Arturia V Collection 7 and 8 so you have Bitley patches if you have any of these. You also have Bitley patches inside Reason's Factory Sound Bank by the way. Anyway; An excellent plugin to have side by side with our sound libraries.

2. The iPhone and iPad CMIs.

These are great fun for getting a little "original CMI" vibe but it's pretty safe to say that you can't create a full arrangement anywhere near what you can do with a real DAW such as Reason or Logic etc. However, you can create fun and cool sounds and this is what it's all about. Again; excellent to have side by side with our sound libraries.

3. QuasarBeach

This is just like the iPhone and iPad apps extremely fun to use and it almost feels like working with a real Fairlight at times. However, the audio performance is nowhere near that of a professional DAW and the original Fairlight CMI limitations are also there, for better or for worse. Anyway, a superb programmer's work and very fun and exciting to check out. Again? Excellent having side by side with Reason, Logic, Ableton Live or Cubase etc running our libraries either via the Reason rack or via Native Instruments' Kontakt.

4. Obtaining a real vintage Fairlight CMI

There is an on-going Fairlight restauration where you can be lucky and find actual and working Fairlight instruments. This is a project involving Rob Puricelli / Failed Muso (who also is a friend and supporter of the Bitley soundbanks) and Peter Wielk of Horizontal Productions. Would a Fairlight CMI replace a modern day DAW? No, not at all but it can absolutely still be a very fine musical instrument, midi connected and audio connected to your DAW setup or used in the more classic ways, of course. So would any of the Bitley sound banks work well side by side with this? Absolutely. When you need to find something quickly or add stuff with lots of sounds layered, it would be ideal having any of our libraries side by side with this as well.