THE FIRST BITLEY™ REFILL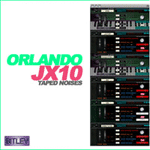 One of the most passionate Reason refill projects We have worked for years with the JX-8P and the JX10, creating unique sounds with them. Those had to be preserved somehow, but perhaps not by doing super clean multisamples. Something else must always happen. Adding grit and character became a vital part of the whole idea. Some of these sounds has been passed on into the giant WBF R2 project but here they are in their original form, using the original JX10 inspired combinator skins. This is the first Bitley™ refill we made, after having made many of the Power FX refills.
Let's make music with it! Follow the tutorial and you'll see that this is an aweseome soundbank for techno and hiphop artists – as the sounds are very samply and lofi but not in the normal sense. Here's why; we decided to create really dirty sounds so they were processed this way: Recorded on to tape. And then sampled from the tapes. You will also get great drum sounds and some more clean JX10 synth patches. A lovely and inspiring refill which works with all Reason versions from R4 and up.
Order Orlando JX10 – it's just $29